UsedRange in Worksheet using VBA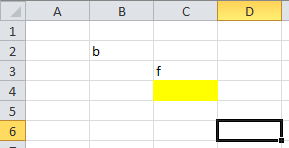 UsedRange returns a Range object representing the area of a worksheet that is being used. You will use the UsedRange to work with a range of cells in a worksheet whose size you have no control over. The UsedRange property represents the area described by the farthest upper-left and farthest lower-right used cells in a worksheet and includes all cells in between.
As an example, with the active workheet as in the image above, running the code
?ActiveSheet.UsedRange.Address
in the Immediate window will return . From this we can conclude that UsedRange:
is a rectangle range,
includes cells containing data or being formatted and possibly other things,
does NOT automatically include topleft cells such as A1,
does NOT consider the active cell as 'used'.
Warning
If you are only inserted in data you must be aware that not all rows actually contain data - there may be other reasons a row is included, as in the above example includes the formatted cell C4.